Pan Africa International University (PAIU) is an institution with an impressive reputation, one of the leading universities in Somalia and the only national University chosen by the Federal government of Somali to host the prestigious Pan-African e-Network project which is a joint initiative of the Government of India and African Union and is funded by the Government of India at an estimated cost of US$116 Million. The programme aims at imparting basic and postgraduate degrees to 10000 students from 53 African countries participating in the programme, using modern information communication technologies from some of the top-notch universities of India. PAIU has been privileged to established cordial working relationship and collaboration with five Indian top Universities (Delhi University, Amity University, University of Madras, IGNOU and BITS Bilani) participating in the implementation of Pan-African e-Network Programme.
It was established in July,2004 under an act of presidential decree with the noble aim of delivering quality higher education, in various disciplines through regular and distance learning programs. The objective of the University is to promote programs in the field of computer science & information technology, Management-Business and Finance, Social science and Humanities, Education, Health Science and international languages and to train the students belonging to all level of society to meet the technological, scientific and managerial requirements of the country.
Our Mission
Expansion of scientific education with a unique of blend of innovative ideas along with oriented curriculum. The university promotes academic excellencies, personal responsibility and commitment to service. We strive citizens with knowledge, character leading to national development and social transformation
Our Vission
To Provide Functional and Comfortable Evnironment Conductive to Learning, Conducting Research Through Professionalism, Excellence and Team work. To Provide Leadership in Higher Education by Imparting Quality and Socially Relevat Knowledge
Core Values Upheld by the University
Collaboration and Inclusiveness
Developing a symbiotic community of faculty, students, alumni, industry, government bodies and other Universities/centres of learning.
 We constantly challenge ourselves to the highest levels of learning and performance to achieve greater impact.
Integrity, Fairness, Commitment, respect, Honesty and Transparency in all actions.
PAIU University has been nominated by the federal Government Somalia to host prestigious Pan-African e-Network collaborating with Top notch Indian Universities (IGNOU, AMITY, University of Madras, Delhi University and Bits Billani). The Center of e-Learning Has been set Up coordinating tel-education programs from indian participating Universities.
The University established "Department of Vocational education and Training" training more than 400 in-service and pre-service teachers in collaboration with international organizations (Care international, USAID, NRC, Relief International and Mercy Crops).
2018    Pan-African e-Network Graduations: Is the largest Master's degree ceremony taken place in Somalia in History. More than 150 students perusing different Master's programs graduated from Amity University in association with PAI University, Somalia.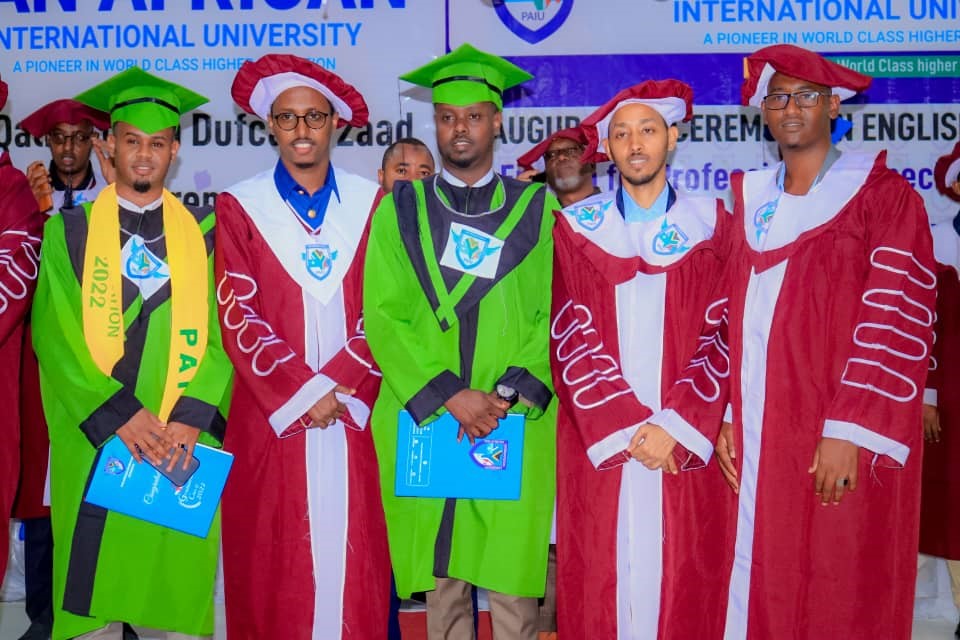 Sheikh Abdul Hayi Sheikh Adan oo uhambalyeeyay ardayda qalin jebiyay
Join thousands of students who are part of PAIU learners
Scholarships are provided for outstanding students who demonstrate academic excellence, high intellectual capacity ,strong character and high ambition

PAIU has made it easier for students to pursue their dreams and empower them to be able to compete in the job market by providing a wide range of instalment plans that help them pay their tuition fees on batches